Information on Going Abroad
Spending one semester, or at least three months, at an international host university counts as studying abroad.
Goals
Cultural Engineering students spend their semester abroad at host universities across the globe in order to enrich their plurality of perspectives by experiencing cultural differences. They are put in the position to improve their interdisciplinary work mode and to deepen their discipline-specific knowledge. The semester abroad allows students to change perspective and to look at their discipline from a new or different angle. They hone their skills to behave appropriately in different cultural, linguistic, political, social, and economic contexts. Moreover, they improve their language skills. Students can harness their experiences for projects or internships, which can also be done abroad. Thus, students establish a profile for their CV while developing their personality.
Planning and organising
The programme already includes a semester abroad in the curriculum due to the eight-semester standard study period. It is recommended to spend the fifth semester at an international host university. However, students can go abroad earlier or later than the fifth semester if they have acquired the necessary basic knowledge in cultural studies and methodology and have completed the introductory courses in economics and engineering. This is necessary for students to establish an individual focus in the profiling field of the programme which can be further developed abroad.
It is advisable to start at least thinking about, if not already planning, the semester abroad by no later than one year before the intended departure, i.e. normally after the first year of study. It is best to start planning early in order to secure internship opportunities, organise possible projects, and ensure to meet deadlines both for the applications at host universities and for scholarships. In this regard, the Campus Service Center offers initial advice. The programme directors organise information events concerning the profiling field and going abroad at the beginning of the third semester. Experience has shown that questions concerning the peculiarities of planning and organising a semester abroad arise usually at the beginning of the fourth semester. These peculiarities include, but are not limited to letters of recommendation, applying for federal support in education abroad (Auslands-BAföG), learning agreements, visa applications, etc. Please contact the student advisor if you have questions in this regard.
Roads to other countries
Many students make use of the International Office's offers and study at partner universities of the Otto-von-Guericke-University Magdeburg.
ERASMUS
The mobility programme of the European Union, ERASMUS, provides students with the opportunity to study for one or two semesters at universities in other EU countries. The OVGU offers 290 ERASMUS places free of study fees. You can find all the current exchange opportunities from more than 110 European universities for your preferred destination and/or field of study in the exchange database. Due to the interdisciplinary programme, Cultural Engineering students have a wide range of possibilities to choose from, such as developing a profile in cultural studies, economics, logistics, or computer sciences. The ERASMUS online application platform is open from 1 January to 1 February each year. Vacant ERASMUS places are listed in the International Office's forms and documents section from 1 June onwards.
WORLDWIDE programme
One alternative to ERASMUS is the WORLDWIDE programme which encompasses more than 35 partner universities of the OVGU in North, Middle and South America, and Asia. You can find all available places in the exchange database. The general duration of study at one of these partner universities is one semester but may be extended to one year of study in exceptional cases. Accepted students enjoy the privilege of total or partial fee reduction. Students have to apply for WORLDWIDE places using the online platform. The deadline for applications is 1 December of each year.
Free Mover
Students can also organise their semester abroad as so-called "free mover". Free movers are students who do not take one of the places at a partner university but organise their semester abroad on their own. This procedure requires careful planning. There are a number of agencies who represent international universities from Asia, Australia, New Zealand, Canada, etc. without charging fees for their services, such as College-Contact, IEC-Online or Asia Exchange.
For more information to the different roads to other countries listed above please also see the Outgoing section of the International Office's website.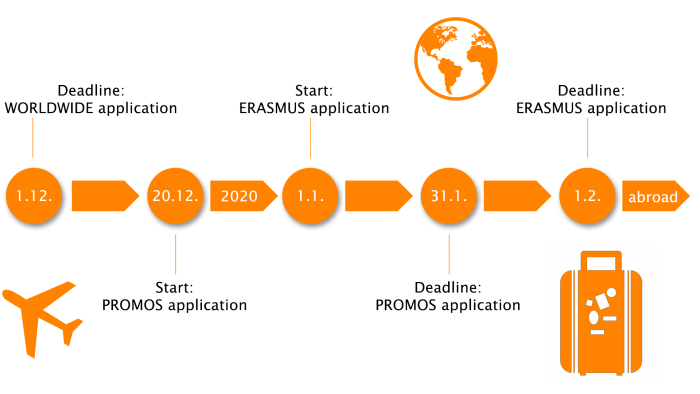 Choosing a host university and courses
The semester abroad is supposed to provide students with cultural experiences and offer personal and discipline-specific profiling. Therefore, possible destination countries warrant both intercultural and language expertise for the respective cultural sphere. Moreover, the courses in which students enrol at the host university should serve to either develop or expand students' individual profile. Last but not least, the semester abroad may provide stimulation for projects, internships, or topics for the B.A. thesis.
The following questions may help you in your choices:
Choosing a country: Where do I want to go? Which countries do I find appealing and why? Which language skills do I possess? Which language skills do I want to develop? Which cultural expertise do I want to improve?
Choosing a university: Which types of university are there in the destination country? In which city do I want to study? Do I place value on a prestigious university? Which universities offer my preferred focus regarding the different disciplines? Are there partner universities of the OVGU among the possible candidates? How is the year of study structured there?
Choosing courses: Which courses are open for B.A. students? Is it possible to enrol in courses offered by Master programmes? Are there English-taught courses? Which language courses are offered? Does the university provide preparatory courses in language and culture? Which courses are attributed to the CE programme's fields of cultural studies or profiling? Which courses supplement the elective courses I took at the OVGU? Which courses build bridges between my profile areas?
This entails that you will have to certify your foreign language competencies already when applying for studying abroad. The OVGU's International Office almost always requires certification of English language knowledge at B2 level or higher. Further language competencies will need certification when the university for which you are applying teaches in a language other than English. You can find a detailed overview of the International Office's language requirements here. The OVGU's language centre offers foreign language certification tests at the cost of 15 €. For more information on the language centre's foreign language certification, please see here.
You can find a comprehensive overview of best practice examples in our exchange database. Examples for different profiling options during the semester abroad can be found here.
Expenses and financing options
Inform yourselves about the expected costs of living in the destination country and the city in which your preferred university is located with the help of message boards, embassies, or other means. Find out whether you will have to pay study fees. Estimate, at least roughly, other foreseeable expenses for, among others, visa, insurances, or travel expenses.
In terms of funding a semester abroad, there are a number of possibilities:
ERASMUS financial assistance: ERASMUS+ is a European education programme which helps students financially (maximum 480 to 600€ per month) to go abroad within the European Union.
Auslands-BAföG: The Auslands-BAföG is funding within the scope of the German Federal Law on Support in Education and can be applied for in addition to ERASMUS+ scholarships. Even students who are not eligible to apply for BAföG while studying in Germany may be eligible for funding when going abroad. Auslands-BAföG funding also includes the (partial) reimbursement of study fees.
PROMOS scholarship programme: Students can apply for scholarships which cover up to six months of international study, including internships or thesis. PROMOS beneficiaries are chosen in accordance with the achievement principle.
DAAD scholarships: The DAAD (German Academic Exchange Service) funds both internships and international study periods of up to one year. DAAD applications usually warrant several months of planning ahead, as they require some effort and have early deadlines.
Institutions of the scholarship system: Many of the different political, denominational, and other foundations also offer funding within the scope of their scholarship programmes.
Country-specific scholarships: Please also research country-specific financial support opportunities. Among the most prestigious programmes is the Fulbright scholarship, which supports international study in the USA. In France, international students can apply for lodging allowance.
Jobs: There are a number of possibilities to work alongside one's studies. In this regard, however, students should pay careful attention to the study effort required by the host university. In addition, the legal idiosyncrasies of different destination countries have to be considered.
Please turn to the OVGU's International Office for additional support if you are looking for financing options.
Preparing the journey
If you need information concerning one or several of the following questions, we recommend turning to those websites of your host university aimed at international students, websites of the destination country's embassy, or the OVGU's International Office.
Which laws on entry and residence are there?
Do I need a passport or is my ID card sufficient?
Do I need to get additional insurance (esp. health insurance)?
Which vaccinations do I have to have administered?
Welche Unterkunftsmöglichkeiten gibt es am Hochschulort?
How is accommodation managed at the prospective destination?
Does the host university offer preparation courses or an introductory week for international students?
Prior to departure, students are recommended to acquaint themselves with country-specific customs and manners, for instance by using guidebooks or the Internet. The Faculty of Humanities offers a variety of intercultural communication courses (Anglo-American, Eastern European, Indian, etc.) which may prevent a "culture shock". In addition, it may be advisable to look for specific language courses at Magdeburg's community college if they do not fall under the scope of the OVGU's language centre. The biannual Festival of Cultures, in which many international students from the OVGU and the Hochschule Magdeburg-Stendal participate, also offers an insight into the cultural diversity of other countries.
Another source of information are students which have already spent a year abroad, ideally at the very same host university which you also prefer. You can find reports on semesters abroad on the website of the DAAD and in the International Office's exchange database. In the context of the Hochschule Magdeburg-Stendal's Studium Generale programme so-called Wissen/Fernweh events serve as platform for students who tell about their experiences abroad. It is planned to set up an exchange database on this website in order to collect testimonials from Cultural Engineering students.
Credit recognition
The programme's broad interdisciplinary range as well as its focus on an individual profiling already anticipates the oftentimes complicated process of recognising certificates issued from international universities for credits. Students can choose more or less freely from the course offer at their host university to collect the necessary 30 CP (900 h) in the module reserved for studies abroad. However, we ask you to have in mind the compatibility with the CE programme in order to avoid enrolling in courses at the host university which are congruent with courses which you have already taken at the OVGU. Thus, please read the course descriptions carefully.
Before going abroad, students will have to sign a learning agreement with their host university. The learning agreement (see the International Office's download section) defines a binding course programme: The host university assures that students can enrol in the listed courses while students commit themselves to taking these courses. The CE programme directors confirm that the listed courses will be recognised for credits after the respective student's return. The learning agreement should be submitted to the student advisor one month before the start of the semester abroad at the latest in order to coordinate the courses and their recognition for credit. This entails that students should enclose a short explanation for their choice of courses. Moreover, students will find that they need other written confirmations prior to their departure, such as confirmation for Auslands-BAföG or letters of recommendation for scholarship applications. In any case, please prepare all necessary documents to the best of your knowledge before consulting with the student advisor and have necessary personal documentation ready (such as CVs or HIS reports). Please also ensure that your requests reach us with sufficient notice.
After your return, please submit to the student advisor the following items: the learning agreement, the transcript of records, the form for the recognition of credits gained abroad, and a report on your international study. The second part of your learning agreement documents the workload and your grades. The transcript of records lists all courses with the respective credit points, grades, and evaluation. In general, the transcript of records is issued by the host university's international office. With the form for the recognition of credits gained abroad, the recognition is confirmed to the examination office. The report aims first and foremost at the student's reflection on the experience abroad but may also serve other students as valuable source of information when planning their own international study at the same host university.
For other inquiries, please come to the student advisor's office hours.