FAQ - Frequently Asked Questions
Below you find answers to the most frequently asked questions.
Prospective Students
What does CE mean?
CE is the abbreviation for Cultural Engineering, a unique Bachelor programme in Germany. The partly English-taught and interdisciplinary programme focuses on cultural studies and offers additional specialisations in the branches of logistics, economics, and computer sciences. Therefore, it provides students who have a wide range of interests with the possibility to observe and study social phenomena from various academic perspectives. During the programme's eight semesters, students will be given the opportunity to develop their individual profile, e.g. through project work, during a study abroad and during a mandatory internship.
For whom is the study programme suitable?
The programme addresses prospected students who, above all, are curious. Furthermore, they should be willing to be open to problems and working areas which require thoroughly different approaches; this is what makes studying interesting. Students are required to possess English language skills on secondary school level, as some of the courses are taught in English. On the whole, the programme requires and promotes a high level of self-reliance and self-organisation.
Which qualification objectives are pursued?
Graduates possess
basic, discipline-specific knowledge in cultural studies.
the ability to diagnose and develop organisations as social, cultural and technological systems.
methodological competencies enabling them to apply their knowledge to practical social fields.
competencies to acquire knowledge.
the ability to work self-reliantly and in a problem-oriented manner in an academic context.
the ability to analyse and interpret both literary and non-literary texts, cultural documents, and media from different historical periods and genres.
the ability to produce texts both orally and in writing and to visualise work results.
Which abilities will graduates possess?
Graduates are able to reflect on the social importance of interdisciplinary perspectives and to contribute their specialised competencies to professional and social commitment. They are aware of phenomena of cultural and social heterogeneity and are able to reflect on these as central conditions of professional actions contexts. Graduates recognise the importance of sustainable development and are able to comment on social conflicts and nature-culture-interactions in an academic manner. Moreover, the programme fosters personality development goals such as critical reflection and assessment, cooperation and teamwork, a sense of responsibility, communication and moderation skills, intercultural competencies and leadership skills.
In which professional fields can graduates be employed?
Graduates are typically employed in the following working areas:
public relations
NGOs
cultural institutions, cultural industry
education companies
publishing houses, broadcasting, press
event management
marketing, market research, sales
organisation development, consulting
human resources, coachings, personnel training
urban development
logistics
quality management
IT

Why should I choose an interdisciplinary study programme?
Interdisciplinary programmes are constantly gaining in importance. Many students choose them in order to have a broad range of professional opportunities after graduation. As interdiciplinary all-rounders, our graduates are constantly working at professional interfaces. They are trained to approach complex tasks in a comprehensive and connecting way. They moderate processes, organisations, and procjects and are able to align discipline-specific perspectives with users' daily needs. Cultural Engineering graduates bring project partner together who speak different in different professional jargons without losing sight of users' needs. In doing so, they frequently combine otherwise separated approaches to tasks, which makes them appear in a different light and thus often enables sustainable problem solutions. For example, sometimes aesthetic decisions are what is needed between the functional requirements of architecture and social science's statistics. In a different professional circumstances, it may be prudent to mediate between the best solution in terms of information technology and the appropriate workplace environment. It is in these contexts that corporate culture and people-centred knowledge management are brought together.
Why is the duration of study eight instead of six semesters?
In contrast to most Bachelor programmes in Germany, Cultural Engineering runs for eight semesters of study. Students will devote one semester's extent of work (30 CP) to transdisciplinary projects with social relevance and study one full semester at an international host university. Moreover, extending the duration of study ensures the transition of students into discipline-specific Master programmes despite the lack of a consecutive Master in Cultural Engineering. By profiling in one specific field of Cultural Engineering, students can acquire enough CP to meet the admission requirements of discipline-specific Master programmes. It follows that the choice of classes in the profiling modules (C) allows for extending the Bachelor programme's cultural studies field (A) to 135 CP and the specialisation field to 155 CP in order to secure the CE programme's compatibility with the respective Master programmes.
Which language skills do I need?
Since the programme is partly English-taught, applicants will have to provide evidence for language skills at the level of B2 according to the Common European Framework of Reference for Languages either by their university entrance certificate or an equivalent language test. Students who feel the need to refresh their English skills will find a corresponding course among the language centre's course offers. Applicants without German university entrance certificate will also have to provide evidence for their knowledge of the German language by DSH level 2, TestDaf level 4, the ZOP or equivalent certificates.
How do I ascertain if my knowledge of maths is sufficient for the study programme?
Applicants who want to test their skills in the natural science fields of the programme may find the MINTFIT Hamburg's online test useful in this regard. The tests offer a self-assessment in maths, physics, and chemistry. Moreover, they provide the opportunity to close gaps with the help of e-learning classes before the start of studies.
Why should I study in Magdeburg?
Magdeburg is located both near the geographical centre of Germany and near the federal capital Berlin and has good traffic connections. The capital of Saxony-Anhalt offers ample opportunity for social and political commitment. Many historical changes have transformed Magdeburg into a city with a lot of potential, which calls for its citizens' contribution and provides possibilities to implement one's own ideas. Magdeburg is currently applying for European Capital of Culture 2025. Magdeburg's low costs of living appeal to students in particular. The university campus is located directly in the city centre and provides modern facilities. Equally notable is Magdeburg's vibrant student life, to which Cultural Engineers contribute actively. The Cultural Engineering programme is tied to the broad range of courses offered by the OVGU and the curricula of other faculties provide the possibility to focus on, for instance, technology or economics. In this regard, the OVGU's rich tradition as a technical university and the big Faculties of Economics and Computer Sciences add to the pluralistic character of the humanities. Moreover, the usually manageable course size facilitates individual supervision. Learning in groups fosters teamwork, allows to spread high workloads in big projects, and provides peer-to-peer counsel and support. Different partners in the fields of economics, public institutions, politics, and art supports the implementation of creative ideas. Many students realise local projects with museums, theatres, arts and leisure centres, freelance artists, art societies, and other social actors.
How do I gain insights into the programme?
The OVGU offers to prospective students the opportunity to spend one day with students and accompany them during their everyday life at university. You can attend classes with students, eat at the cafeteria and, above all, ask a lot of questions. In order to apply for the "Student for one Day" project, please turn to the Campus Service Center or the CE student representatives.
Applicants
Are there any admission restrictions?
As well as for other programmes at university applicants need a university entrance certificate that compares to the German Abitur. Since the programme is partly English-taught, applicants will have to provide evidence for language skills at the level of B2 according to the Common European Framework of Reference for Languages either by their university entrance certificate or an equivalent language test. Students who feel the need to refresh their English skills will find a corresponding course among the language centre's course offers. Applicants without German university entrance certificate will also have to provide evidence for their knowledge of the German language by DSH level 2, TestDaf level 4, the ZOP or equivalent certificates. There are no further admission restrictions.
Where do I need to apply?
Applicants with a German university entrance certificate will have to apply directly to the OVGU (click here for application) whereas applicants without German university entrance certificate will have to apply via uni-assist (click here for application).
Until when do I have to apply?
Enrolment in the B.A. programme Cultural Engineering is only possible in the winter semester. Applicants without a German university entrance certificate will have to apply until 15 July. Applicants with a German university entrance certificate will have to apply until 15 September.
When do I get my admission notice?
The dispatch of admission notices depends first and foremost on the moment of application. Applications are processed centrally in the university's Department of Academic Affairs. Sometimes admission notices can arrive days after your applications, but sometimes they can take weeks to arrive. In your admission notice, you will be requested to submit further documentation. For further information, please consult the FAQ of the Registrar's Office.
Entrants
What happens during the introductory week?
The introductory week aims at familiarising students with the university and your respective study programme in order to help you getting started with your studies. Events will encompass welcoming events of the faculty and of the programme. Moreover, the university hosts a matriculation ceremony and the university library offers an introduction to new students. The student representatives (FaCE) organise a meeting to get to know each other, a campus tour, a city tour, and help with building timetables.
Who is responsible for student advising and where do I find them?
The student advisor is the main contact person of any study programme, who helps the students with their inquiries concerning the programme. The student advisor for Cultural Engineering is Dr. Nora Pleßke (building 40, room 270). Additional appointments besides the regular office hours can be requested via e-mail.
Where do I get help with inquiries concerning my studies?
For questions about studying in general, please consult with the Registrar's Office or the Campus Service Center. Questions concerning Cultural Engineering are best put to the student advisor. In addition, you can always ask the members of the Cultural Engineering student representatives (FaCE) for help or advice.
Where do I have to validate my student ID?
The student ID card (UniCard) is a chip card which also serves as library card, student ticket, and money card in the cafeteria and at the copy stations. The UniCard has to be validated at the beginning of each semester. You can find validation stations at the following locations:
building 01 (Campus Service Center)
building 06 (lobby)
building 10 (ground floor, next to the elevator)
building 26 (in front of lecture hall 1)
building 40 (ground floor, main entrance)
dean's office of the Faculty of Medicine (campus university hospital / building 2)
These validation stations are different from the top up stations located, for example, at the cafeteria's entrance or the library. At the top up stations, you can top up your UniCard with credit in order to use it as money card. Please note that these stations only accept notes, no coins. You can find additional information about the UniCard here.
How do I register with the library?
At the beginning of your studies, you will have to register with the library by presenting your student ID. In addition, you will need to fill in a registration form, which you can get at the registration desk or print in advance. In addition, international students will have to present their passport and accommodation registry. You can find more information about registering with the library here.
How do I check my e-mails?
In order to check your e-mails, you need an OVGU account. This account was generated automatically when you enrolled at the university and has to be activated once via the university computing centre's (URZ) website. Afterwards, you can log in to your account at the webmail server. For further information, please see the computer centre's FAQ or website.
Which courses are compulsory for first-year students?
The study and examination regulations (SER) determine that first-year students take courses in the following modules: "Culture and Identity" (10 CP), "Technical Logistics" (5 CP), "Introduction to Business Administration" (5 CP), "Introduction to Business Information Systems" (5 CP) and "Mathematical Methodology I". Please see the module handbook for the specific contents of the respective courses. You can find the current course offers in the LSF. Here you can find an overview over the curriculum.
How do the LSF and myOVGU work?
Behind the abbreviation LSF hides the university's administration system. In the LSF, students can build and manage timetables and enrol in courses. Moreover, they can register for exams and see their grades after having sat for exams. In order to get access to the LSF's functions, you have to log in with your OVGU account data. You can find an extensive FAQ to navigating the LSF here. In myOVGU, you manage personal data and re-register for later semesters. There is also a FAQ for myOVGU. Moreover, you can combine the functions of the two platforms by using the "UniNow" app, which was developed by two OVGU graduates. The app also offers a linkup to your e-mail and library accounts and displays the cafeteria menu.
How do I build my timetable?
Building timetables can be done in the LSF. After logging in, you first have to search courses, bookmark them, and import them into the empty timetable. Alternatively, the menu item "Curricula Timetable" offers an overview of the course offer for your study programme in the current semester which can then be imported into your personal timetable. Here you can find help with building timetables in the LSF. Moreover, the student representatives offer a guided session for timetable building during the introductory week. If there are further questions, please turn to the student advisor.
When and how do I have to enrol in courses?
You can enrol to courses via the LSF. After logging in, you will see the option to enrol into a specific course next to the possibility to import it into your timetable. Courses have different periods of time during which you can enrol, although enrolment starts mostly a few weeks before the start of the semester. However, this process does not guarantee enrolment in the course but only secures a place on the waiting list. The actual enrolment takes place after the end of the enrolment period. You can see the state of your enrolment (e.g. "registered" or "enrolled") in your timetable. If there are parallel groups of one course, you can prioritise up to three of them. You will be enrolled in one of the groups with consideration of your priorities. However, it is recommended to attend the first session of a course even if you were not enrolled via the LSF and talk to the instructors. Possibly, other students who are enrolled will withdraw, so you may take their place.
What is Moodle and how do I use it?
Moodle is the OVGU's e-learning platform where instructors make course material available. Use your OVGU account data to log in. The dashboard provides an overview of the current and the last semester as well as of other associated institutions, such as the library. You can find the course you are looking for in the respective semester section and enrol. Sometimes, instructors protect their e-learning courses with a key, which is usually provided in the first session. After having enrolled into the respective e-learning course, you can access the material provided by the instructor. The dashboard also offers shortcuts to the courses you have enrolled in. Please note that enrolling in Moodle only serves the purpose of sharing course material and is completely detached from enrolment processes via the LSF or exam registration.
Contents of Study
How extensive is the workload?
The workload encompasses, among other things, course attendance, preparation and revision of classes, self-reliant engagement with the course contents and examinations. 1 Credit Point (CP) is equivalent to approx. 30 hours of work. As the workload for one semester is approx. 30 CP, this equals around 900 hours of work. The programme's cultural studies field in particular demands the preparation and revision of classes and a high willingness to read.
Do compulsory modules in cultural studies (PM 1 to PM 4) have to be taken in numerical order?
The obligatory module 1 (PM 1) is planned for the first semester as an introduction to studying at a university. As it encompasses the obligatory attendance of the "Introduction to Cultural Studies" lecture (6 CP) and one accompanying seminar (4 CP), the module can already be completed in the first semester with a total of 10 CP. These courses build the foundation for the other cultural studies modules PM 2, PM 3, and PM 4. In the course of study, you are free to choose from the course offers in the respective modules provided you gain 10 CP in each module. Whereas PM 2 and PM 3 are more or less interchangeable in terms of order, courses in PM 4 are designed for more advanced students (sixth to eighth semester). It is recommended to complete a module in two consecutive semesters as courses within any module usually build on one another. All in all, you should be mindful not to exceed the designated workload of 30 CP per semester (too much) when you build your timetable.
Am I still able to enrol in PM 1 courses which spark my interest after the first semester?
Even after the completion of any module, not just PM 1, you can enrol in courses in the respective modules. On the one hand, any course can be attended as "guest auditor" without taking examination, provided there is enough capacity. On the other, courses can be credited as optional studies with either 4 or 6 CP depending on the type of examination. If you take more courses than can be credited for your final Bachelor grade, you can nonetheless have them noted on the Bachelor certificate, provided you have taken examination in those courses and not just attended as guest auditor. This might be advisable for students who want to continue their studies with a discipline-specific Master programme and have to gain credits to meet the admission requirements.
How do cultural studies relate to the engineering and economic courses?
The programme's cultural studies field (A) encompasses a total workload of 40 credit points (CP) in the obligatory modules (PM 1 to 4). Moreover, the cultural studies field can be extended up to 135 CP by taking cultural studies courses in the profiling field (C). Accordingly, the technical and economical specialisation field (B) encompasses 60 CP but can be extended by profiling up to 155 CP.
Why do Cultural Engineers need maths anyway?
The maths courses in the programme are tailored to students from the Faculties of Humanities and Economics and aim at providing practical mathematical methodology for the technical subjects in the specialisation field (logistics, economics, computer sciences). Furthermore, mathematical methodology is especially relevant for empirical quantitative analysis and financing and calculating projects. The maths courses build on secondary school skills. In addition to the regular courses, the Faculty of Mathematics also offers "MathsSupport" classes.
Does the programme include dedicated English language classes?
No, the curriculum does not encompass language practice classes. However, the courses offered by the Chair of Anglophone Cultural and Literary Studies are usually taught in English and thus provide improving language skills in addition to dealing with cultural studies topics. These courses can be credited in PM 1 to PM 4 and as optional studies. Dedicated language practice classes are offered by the OVGU's language centre (SPRZ). Besides UniCert English classes, which can be credited, you will find uncredited refresher classes. Please note that the language centre charges fees for their classes.
Do I need to take one semester off for my internship and/or the project module?
As specified by the Cultural Engineering study and examination regulation (SER), one semester is already reserved for project work (25 CP) and internship (5 CP). Thus, a semester of leave is not necessarily required. However, should you desire to take a semester of leave for any reason, please consult with the student advisor and the examination office in advance. You will have to submit a written request to the Campus Service Center (building 01). Please note that during a semester of leave successful examinations can only be credited with a maximum of 18 CP.
Which courses can I take for optional studies?
In general, you can take all CE courses that have not been credited for other modules yet. In addition, you can take language classes (only UNIcert courses for credits), all courses at the Faculty of Humanities which do not explicitly exclude optional studies students, and courses from other faculties which are included in the catalogue for nontechnical optional subjects (Nicht-Technische Wahlfächer) and key competencies (Schlüsselkompetenzen).
Which courses do I have to take for the communication training module (PM 46)?
The communication training module PM 46 can be completed with two assignments (Studiennachweis) in two different courses. Both of these courses have to amount to 4 semester hours and will be accredited with 5 CP in total. Please note that taking one course with 4 semester hours does not suffice for the completion of the module, as you need to take a secound course. The CP given for the course in the LSF are irrelevant for CE students, but they may serve you as an indicator for the workload the course demands.
Internship
Does the internship have to last four weeks?
The internship is credited with 5 CP and thus is equivalent to 150 hours of work, or four weeks in full employment. However, internships can also be done in part-time alongside the studies. Internships may last longer than four weeks, most ads ask for three or six months, but will be credited with 5 CP in any case. Longer internships may lead to having to extend the duration of study if, for instance, a semester of leave is necessary. If you plan to do a longer internship and/or request a semester of leave, please consult with the student advisor. Additional information can be found in the internship regulations and on this website.
Where do I find information about current internship opportunities?
Here you can find current internship opportunities. To keep up to date we recommend subscribing to the RSS feed. Additional opportunities can be found on the website of the Leonardo Bureau Saxony-Anhalt and pertinent job boards.
What do I have to do in order to get my internship recognised for credits?
Each internship has to be completed with an internship contract. Contacting institutions or businesses for which you wish to work is essentially your job. However, the student advisor and the respective institutes and divisions of the faculty offer support in this regard. The examination office provides a template internship contract, but the respective businesses may prefer to use their own teplates. The internship encompasses tasks from a field of work relevant to the study programme and should be done in an organisation outside of the university. The programme director decides whether the chosen institution or enterprise is suitable for credit recognition. The organisation has to issue an internship certificate, a template for which is also provided by the examination office. In addition, the student has to submit a report of approx. five pages (approx. 1,500 words). Further information can be found in the internship regulations and on this website.
How can I fund an internship abroad?
There are a number of possibilities to get funding for an internship abroad. The following how-to websites on internships offer a comprehensive overview:
In addition, you can apply for international BAföG or scholarships provided by the German Academic Exchange Service (DAAD) to fund your internship abroad. The DAAD in particular offers a scholarship database in which you will also find scholarships targeted at applicants who want to do an internship abroad.
Does a longer internship abroad substitute for studying abroad?
No, a longer internship abroad does not substitute for the mandatory stay at an international host university. The curriculum requires you to stay at an international university for at least one semester and do 30 credits or more.
Project
Am I able to act freely with my projects or do I have to choose a project offered by the OVGU?
You can initiate projects yourself or participate in external projects. In any case, consulting with the student advisor is recommended. You will have to document the workload and the specific project work in a project portfolio in order to secure the recognition of credits in the profiling field (C). Additional information as well as a list of potential partners and existing projects can be found here.
Can I get projects counted for credit which I did during my internship?
As a general rule, projects which are realised as part of an internship or a side job cannot be recognised for credits. This is to prevent normal, practical, executive tasks to be declared as "project work". However, additional tasks can be credited if they reflect the student's personal creative contribution, show social commitment, and are of a character as specified here. In any case, this needs to be viewed case by case and depends on your specific tasks and the project character. Please make an appointment with the student advisor to discuss your case.
How many projects do I have to include in the project portfolio?
The project portfolio needs to contain documentation for all of the 750 hours of work which the students wants to be credited for the project module. This is not limited to the description of the specific project but also includes a documentation of the work performed and a contemplation. For further information, please consult the project manual.
Am I allowed to count the work I put into the creation of the project portfolio?
The work put into the creation of the project portfolio can be counted as project work if it is documented accordingly. In any case, creating the portfolio should not take more than 28 hours (equivalent to 1 CP).
Do I have to present all projects in the context of a university event?
No, you only have to present one project, provided that during a university event you do not only present the project results but also the progress. This kind of presentation is different from project presentations as they are common in an economy context, such as client presentations, since presenting your project work is regarded part of the academic examination. You can find a list of possible events suitable for a project presentation here.
Studying Abroad
Where do I find information about studying abroad?
You can find initial information concerning studying abroad on this website and on the website of the OVGU's International Office. Among other services, the International Office helps students with initial advice for studying abroad. Further questions, especially concerning the recognition of credits gained at the international host university, are answered by the student advisor. Moreover, there are several informational events over the course of the semester. They will be announced via this website's news section and the programme's Moodle course (replacing a mailing list).
Where do I find the OVGU's partner universities?
MoveON, the International Office's data bank, offers a comprehensive overview of prospective partner universities. There you can find offers under the scope of both the European Union's ERASMUS programme and the WORLDWIDE programme, which covers international partner universities outside of the EU.
How do I proceed with my application?
Before you start planning, please inform yourselves about application requirements, especially required language skills, on the website of the International Office. Language requirements for ERASMUS partner universities can be found here, for language requirements of universities under the scope of the WORLDWIDE programme please consult with the International Office, since the universities differ in their demands on applicants. We highly recommend employing the services of the International Office and the student advisor when starting to plan the semester abroad. Afterwards, your application has to be submitted via the online platform for outgoing students. Applications within the scope of the WORLDWIDE programme are followed up with a second application phase at the host university directly. Your respective partner university will contact you and demand further documentation, such as passport copies, transcripts of records, and possibly vaccination certificates.
When are the application deadlines?
Your application has to be submitted via the online platform for outgoing students before the respective deadlines. The deadline for ERASMUS application is 1 February of each year. WORLDWIDE applications have to be submitted until 1 December for the following year. You can also find the deadline dates on the International Office's website. Applicants for the WORLDWIDE programme will be notified until the end of January about the allocation of places. Then, a second application phase follows immediately and you will be contacted by your respective host university with a request for further documentation (e.g. passport copies, transcripts of records, vaccination certificates) until the end of March. Please consult with the International Office and the student advisor if any problems or questions arise.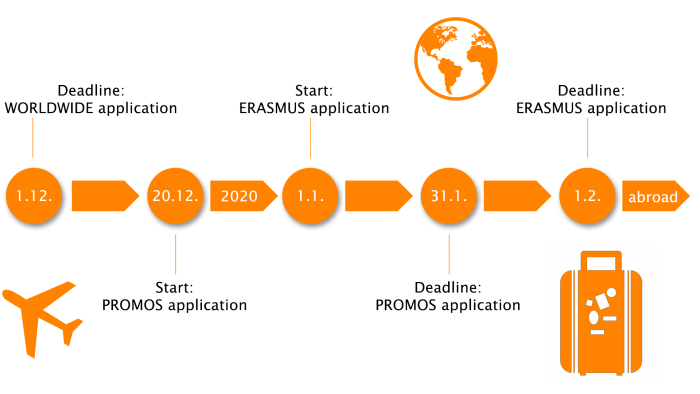 Which languages skills are required for studying abroad?
Students seeking a longer stay in Anglo-American countries will find themselves confronted with an onslaught of acronyms with regard to language competencies, such as CEF(R), TOEFL, IELTS, CPE and many more. Many universities demand language certification from students from non-English-speaking countries. In order to better compare language competencies, the European Council has initiated the Common European Framework of Reference for Languages (CEF or CEFR, sometimes CEFRL) in 2001. The CEF is divided into three levels of competence which, in turn, are subdivided into two stages. With the help of the CEF, foreign language competencies can be expressed and compared from beginner level (A1) to near-native proficiency (C2). You can find language requirements for universities under the scope of the ERASMUS programme here, for WORLDWIDE partner universitites please consult with the International Office, as the requirements may vary from university to university.
This entails that you will have to certify your foreign language competencies already when applying for studying abroad. The OVGU's International Office almost always requires certification of English language knowledge at at least B2 level. Further language competencies will need certification when the university for which you are applying teaches in a language other than English. You can find a detailed overview of the International Office's language requirements here.
Where can I take the necessary language tests?
In order to certify foreign language competencies, there are a number of tests which match the testee with the language levels specified by the CEF. Among the most widely known English language tests are the TOEFL (Test of English as a Foreign Language) and the IELTS (International English Language Testing System). Universities in English-speaking countries usually demand certification from one of these two tests from international students. More information can be found on the respective websites (TOEFL, IELTS). The TOEFL test is oriented towards US-American English and thus often preferred by universities in the United States, whereas the IELTS is favoured in Great Britain, New Zealand, and Australia as it tests British and American English competencies. Please inform yourselves in time about the requirements of your desired university. Both tests can be taken in Germany, require online application, and are charged with a fee (IELTS: approx. 230 €; TOEFL: approx. 240 US-$). Further information concerning the testing process, fees, application, and dates can be found here for the TOEFL test and here for the IELTS test. In preparation for the IELTS, the British Council offers online tests and an e-learning course free of charge. Both test certificates remain valid for two years.
The OVGU's language centre offers foreign language certification tests for a cost of 15 €. These tests can be used to certify foreign language knowledge when applyfing for host universities which do not require specific test certificates. In other words, the language centre's certificates do not replace TOEFL, IELTS or other specific language tests if the host university requests them. However, the certification issued by the language centre may be used, for instance, when the university entrance certificate lacks language level certification.
Can I do more than 30 CP abroad?
For studying abroad, the curriculum plans 30 CP to be recognised in the profiling area, specifically in PM 36. However, if you do more than 30 CP during your studies abroad, you are able to have additional credits recognised as optional studies or in one of the other modules, provided that the courses you took fit thematically into these modules. This has to be specified in the recognition form. In any case, you should consult with the student advisor to discuss recognition possibilities for your courses.
Bachelor Thesis
How many credit points do I need to register my thesis?
You need 200 credit points to register your thesis. Please submit the respective form to the exmaination office.
Is it possible to prepone the bachelor thesis?
Yes, preponing the bachelor thesis is possible. You can register the thesis as soon as you have acquired 200 credit points. If you cannot register the thesis because you do not have acquired 200 CP yet, you can still start with finding your topic, talking to possible supervisors, and outlining your thesis. You can also participate in a colloquium, if s suitable course is offered.
Do I have to write my thesis at the Faculty of Humanities?
No, you do not have to write your thesis at the Faculty of Humanities. You are free to choose any faculty and any supervisor, provided that the supervisor is lecturer in Cultural Engineering. It is advisable to choose your supervisor according to your individual profile and the specialisation area you chose, as the thesis is credited with 15 CP.
Is participation in the colloquium compulsory?
Yes, participation in the colloquium is compulsory. In the colloquium, you will learn how to structure your thesis sensibly and how to develop your line of arguments. In general, students will present their research process and receive feedback from their peers and the instructor. Such feedback is an essential part of the academic work progress. If you are writing your thesis at a different faculty other than the Faculty of Humanities, you can either enroll in a colloquium at that faculty or present your thesis in the Cultural Engineering colloquium with your supervisor present.
Cultural Engineering and Master Programmes
Is there a Master programme?
After successful graduation the eight-semester Bachelor programme offers the opportunity to transition into domestic and international Master programmes in such fields (e.g. economics, logistics, computer sciences, cultural studies) in which students have acquired the required amount of CP. There is no consecutive Cultural Engineering Master programme.
Which Master programmes are offered by the OVGU?
After having completed the Bachelor programme Cultural Engineering, the OVGU offeres the following suitable Master programmes:
Please inform yourself about programme-specific entry requirements already during your Bachelor studies. Some programmes request a certain number of credits in one or several study fields, which should be taken into account when choosing Bachelor modules.
Which Master programmes are offered by other German universities?
In general, Cultural Engineering ties in with a number of Master programmes depending on your specific profile and interest. Please inform yourself about programme-specific entry requirements already during your Bachelor studies. Some programmes request a certain number of credits in one or several study fields, which should be taken into account when choosing Bachelor modules. The following list provides some Master programmes which are especially compatible with Cultural Engineering's interdisciplinary character and the theoretical foundation in cultural studies:
Which Master programmes are offered by international universities?
In general, Cultural Engineering ties in with a number of Master programmes depending on your specific profile and interest. Please inform yourself about programme-specific entry requirements already during your Bachelor studies. Some programmes request a certain number of credits in one or several study fields, which should be taken into account when choosing Bachelor modules. The following list provides some Master programmes which are especially compatible with Cultural Engineering's interdisciplinary character and the theoretical foundation in cultural studies: